Click the map for your Council Member's phone number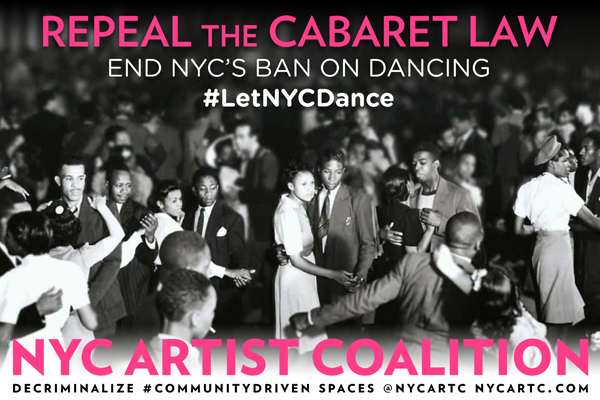 Call your City Council Member and say "Repeal the Cabaret Law."
End NYC's jazz-era ban on dancing. The Cabaret Law requires a permit for dancing. There are only 88 licensed spaces in NYC. The criminalization and shutdown of spaces pushes our communities "underground" and into unsafe environments.
In order to repeal the Cabaret Law, we need to join forces all across NYC with everyone who likes to dance. 
Would you help us reach out to the world's funnest people? Let us know, email contact@nycartc.com.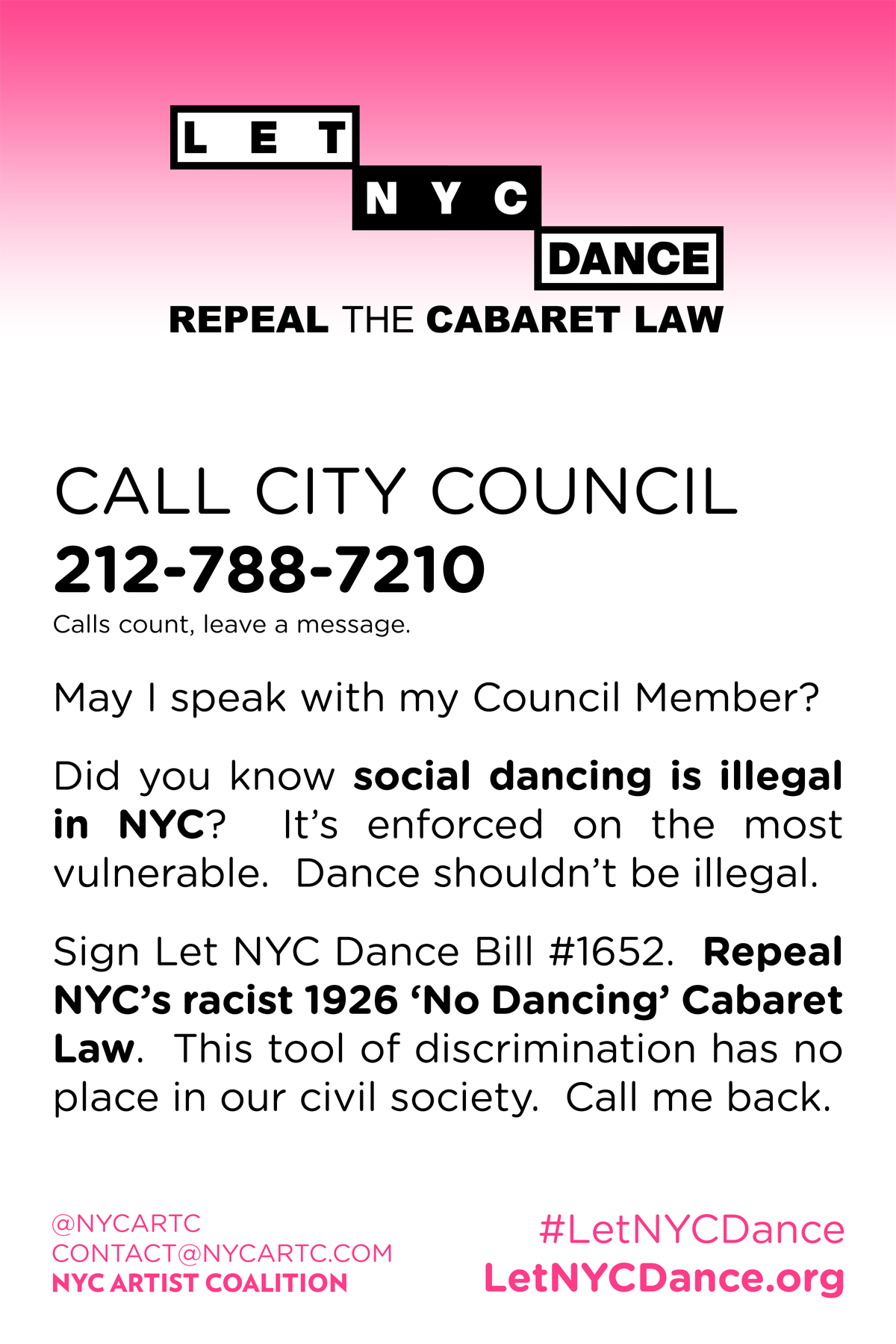 City Council Members
Bronx
Brooklyn
Manhattan
Queens
Staten Island

Bronx
Allerton, 718-931-1721, James Vacca
Baychester, 718-684-5509, Andy King
Bedford Park, 718-549-7300, Andrew Cohen
Belmont, 718-842-8100, Ritchie Torres
Bronx Park East, 718-931-1721, James Vacca
Castle Hill, 718-792-1140, Annabel Palma
City Island, 718-931-1721, James Vacca
Claremont Village, 718-588-7500, Vanessa L Gibson
Clason Point, 718-792-1140, Annabel Palma
Co-op City, 718-684-5509, Andy King
Concourse, 718-588-7500, Vanessa L Gibson
Concourse Village, 718-402-6130, Rafael Salamanca Jr
Country Club, 718-931-1721, James Vacca
East Tremont, 718-402-6130, Rafael Salamanca Jr
Eastchester, 718-684-5509, Andy King
Edenwald, 718-684-5509, Andy King
Edgewater Park, 718-931-1721, James Vacca
Fieldston, 718-549-7300, Andrew Cohen
Fordham, 718-842-8100, Ritchie Torres
High Bridge, 718-588-7500, Vanessa L Gibson
Hunts Point, 718-402-6130, Rafael Salamanca Jr
Kingsbridge, 718-549-7300, Andrew Cohen
Longwood, 718-402-6130, Rafael Salamanca Jr
Melrose, 718-402-6130, Rafael Salamanca Jr
Morris Heights, 347-590-2874, Fernando Cabrera
Morris Park, 718-931-1721, James Vacca
Morrisania, 718-402-6130, Rafael Salamanca Jr
Mount Eden, 347-590-2874, Fernando Cabrera
Mott Haven, 212-828-9800, Melissa Mark-Viverito
Mount Hope, 347-590-2874, Fernando Cabrera
North Riverdale, 718-549-7300, Andrew Cohen
Northeast Bronx, 718-684-5509, Andy King
Norwood, 718-549-7300, Andrew Cohen
Olinville, 718-684-5509, Andy King
Parkchester, 718-792-1140, Annabel Palma
Pelham Bay, 718-931-1721, James Vacca
Pelham Gardens, 718-931-1721, James Vacca
Pelham Parkway, 718-931-1721, James Vacca
Port Morris, 718-402-6130, Rafael Salamanca Jr
Riverdale, 718-549-7300, Andrew Cohen
Schuylerville, 718-931-1721, James Vacca
Soundview, 718-792-1140, Annabel Palma
South Bronx, 212-828-9800, Melissa Mark-Viverito
Spuyten Duyvil, 718-549-7300, Andrew Cohen
Throgs Neck, 718-931-1721, James Vacca
Unionport, 718-792-1140, Annabel Palma
University Heights, 347-590-2874, Fernando Cabrera
Van Cortlandt Village, 718-549-7300, Andrew Cohen
Van Nest, 718-931-1721, James Vacca
Wakefield, 718-684-5509, Andy King
West Farms, 718-402-6130, Rafael Salamanca Jr
Westchester Square, 718-931-1721, James Vacca
Williamsbridge, 718-684-5509, Andy King
Woodlawn, 718-549-7300, Andrew Cohen
Zerega, 718-931-1721, James Vacca
Brooklyn
Bath Beach, 718-373-9673, Mark Treyger
Bay Ridge, 718-748-5200, Vincent Gentile
Bedford Stuyvesant, 718-919-0740, Robert Cornegy
Bensonhurst, 718-373-9673, Mark Treyger
Bergen Beach, 718-241-9330, Alan Maisel
Boerum Hill, 718-875-5200, Stephen Levin
Borough Park, 718-853-2704, David G. Greenfield
Brighton Beach, 718-368-9176, Chaim M. Deutsch
Broadway Junction, 718-642-8664, Rafael Espinal
Brooklyn Heights, 718-875-5200, Stephen Levin
Brooklyn Navy Yard, 718-875-5200, Stephen Levin
Brownsville, 718-953-3097, Darlene Mealy
Bushwick, 718-963-3141, Antonio Reynoso
Canarsie, 718-241-9330, Alan Maisel
Carroll Gardens, 718-499-1090, Brad Lander
City Line, 718-642-8664, Rafael Espinal
Clinton Hill, 718-260-9191, Laurie Cumbo
Cobble Hill, 718-499-1090, Brad Lander
Coney Island, 718-373-9673, Mark Treyger
Crown Heights, 718-919-0740, Robert Cornegy
Cypress Hills, 718-642-8664, Rafael Espinal
Ditmas Park, 718-287-8762, Mathieu Eugene
Downtown Brooklyn, 718-875-5200, Stephen Levin
Dumbo, 718-875-5200, Stephen Levin
Dyker Heights, 718-748-5200, Vincent Gentile
East Flatbush, 718-629-2900, Jumaane D. Williams
East New York, 718-649-9495, Inez Barron
East Williamsburg, 718-963-3141, Antonio Reynoso
Flatbush, 718-629-2900, Jumaane D. Williams
Flatlands, 718-629-2900, Jumaane D. Williams
Fort Greene, 718-260-9191, Laurie Cumbo
Fort Hamilton, 718-748-5200, Vincent Gentile
Fulton Ferry, 718-875-5200, Stephen Levin
Georgetown, 718-241-9330, Alan Maisel
Gerritsen Beach, 718-241-9330, Alan Maisel
Gowanus, 718-499-1090, Brad Lander
Gravesend, 718-373-9673, Mark Treyger
Greenpoint, 718-875-5200, Stephen Levin
Highland Park, 718-642-8664, Rafael Espinal
Homecrest, 718-368-9176, Chaim M. Deutsch
Kensington, 718-499-1090, Brad Lander
Madison, 718-368-9176, Chaim M. Deutsch
Manhattan Beach, 718-368-9176, Chaim M. Deutsch
Manhattan Terrace, 718-368-9176, Chaim M. Deutsch
Marine Park, 718-241-9330, Alan Maisel
Midwood, 718-853-2704, David G. Greenfield
Mill Basin, 718-241-9330, Alan Maisel
Mill Island, 718-241-9330, Alan Maisel
New Lots, 718-649-9495, Inez Barron
North Side Williamsburg, 718-963-3141, Antonio Reynoso
Ocean Hill, 718-953-3097, Darlene Mealy
Ocean Parkway, 718-853-2704, David G. Greenfield
Paerdegat Basin, 718-241-9330, Alan Maisel
Park Slope, 718-499-1090, Brad Lander
Prospect Heights, 718-260-9191, Laurie Cumbo
Prospect Lefferts Gardens, 718-287-8762, Mathieu Eugene
Prospect Park South, 718-287-8762, Mathieu Eugene
Red Hook, 718-439-9012, Carlos Menchaca
Remsen Village, 718-649-9495, Inez Barron
Rugby, 718-953-3097, Darlene Mealy
Sea Gate, 718-373-9673, Mark Treyger
Sheepshead Bay, 718-368-9176, Chaim M. Deutsch
South Side Williamsburg, 718-963-3141, Antonio Reynoso
Spring Creek, 718-649-9495, Inez Barron
Starrett City, 718-649-9495, Inez Barron
Sunset Park, 718-439-9012, Carlos Menchaca
Vinegar Hill, 718-875-5200, Stephen Levin
Wallabout, 718-260-9191, Laurie Cumbo
Weeksville, 718-919-0740, Robert Cornegy
Williamsburg, 718-875-5200, Stephen Levin
Windsor Terrace, 718-439-9012, Carlos Menchaca
Wingate, 718-953-3097, Darlene Mealy
Manhattan
Battery Park City, 212-587-3159, Margaret Chin
Carnegie Hill, 212-860-1950, Ben Kallos
Central Harlem, 212-678-4505, Inez E. Dickens
Central Park, 212-873-0282, Helen Rosenthal
Central Park South, 212-818-0580, Daniel R. Garodnick
Chelsea, 212-564-7757, Corey Johnson
Chinatown, 212-587-3159, Margaret Chin
Civic Center, 212-587-3159, Margaret Chin
Clinton, 212-564-7757, Corey Johnson
East Harlem, 212-678-4505, Inez E. Dickens
East Harlem, 212-828-9800, Melissa Mark-Viverito
East Village, 212-677-1077, Rosie Mendez
El Barrio, 212-828-9800, Melissa Mark-Viverito
Financial District, 212-587-3159, Margaret Chin
Flatiron, 212-564-7757, Corey Johnson
Governors Island, 212-587-3159, Margaret Chin
Gramercy, 212-677-1077, Rosie Mendez
Grand Central, 212-818-0580, Daniel R. Garodnick
Greenwich Village, 212-587-3159, Margaret Chin
Hamilton Heights, 212-928-6814, Mark Levine
Hell's Kitchen, 212-564-7757, Corey Johnson
Hudson Yards, 212-564-7757, Corey Johnson
Inwood, 917-521-2616, Ydanis Rodriguez
Kips Bay, 212-677-1077, Rosie Mendez
Lenox Hill, 212-860-1950, Ben Kallos
Lincoln Square, 212-873-0282, Helen Rosenthal
Little Italy, 212-587-3159, Margaret Chin
Lower East Side, 212-677-1077, Rosie Mendez
Manhattan Valley, 212-928-6814, Mark Levine
Manhattanville, 212-928-6814, Mark Levine
Marble Hill, 917-521-2616, Ydanis Rodriguez
Midtown, 212-818-0580, Daniel R. Garodnick
Midtown South, 212-564-7757, Corey Johnson
Midtown West, 212-564-7757, Corey Johnson
Morningside Heights, 212-678-4505, Inez E. Dickens
Murray Hill, 212-818-0580, Daniel R. Garodnick
Noho, 212-677-1077, Rosie Mendez
Peter Cooper Village, 212-818-0580, Daniel R. Garodnick
Randalls Island, 212-828-9800, Melissa Mark-Viverito
Roosevelt Island, 212-860-1950, Ben Kallos
Rosehill, 212-677-1077, Rosie Mendez
San Juan Hill, 212-564-7757, Corey Johnson
Soho, 212-587-3159, Margaret Chin
Stuyvesant Town, 212-818-0580, Daniel R. Garodnick
Sutton Place, 212-860-1950, Ben Kallos
Tribeca, 212-587-3159, Margaret Chin
Tudor City, 212-818-0580, Daniel R. Garodnick
Turtle Bay, 212-818-0580, Daniel R. Garodnick
Upper East Side, 212-860-1950, Ben Kallos
Upper West Side, 212-678-4505, Inez E. Dickens
Washington Heights, 917-521-2616, Ydanis Rodriguez
Washington Square Village, 212-587-3159, Margaret Chin
Waterside, 212-818-0580, Daniel R. Garodnick
West Village, 212-564-7757, Corey Johnson
Yorkville, 212-860-1950, Ben Kallos
Queens
Arverne, 718-471-7014, Donovan Richards
Astoria, 718-274-4500, Costa Constantinides
Astoria Heights, 718-274-4500, Costa Constantinides
Auburndale, 718-619-8611, Paul Vallone
Bay Terrace, 718-619-8611, Paul Vallone
Bayside, 718-619-8611, Paul Vallone
Beechhurst, 718-619-8611, Paul Vallone
Bellaire, 718-468-0137, Barry Grodenchik
Belle Harbor, 718-738-1083, Eric Ulrich
Bellerose, 718-468-0137, Barry Grodenchik
Blissville, 718-383-9566, Jimmy Van Bramer
Breezy Point, 718-738-1083, Eric Ulrich
Briarwood, 718-217-4969, Rory Lancman
Broad Channel, 718-738-1083, Eric Ulrich
Brookville, 718-471-7014, Donovan Richards
Cambria Heights, 718-776-3700, I. Daneek Miller
College Point, 718-619-8611, Paul Vallone
Douglaston, 718-619-8611, Paul Vallone
Downtown Flushing, 718-888-8747, Peter Koo
East Elmhurst, 718-651-1917, Julissa Ferreras
Edgemere, 718-471-7014, Donovan Richards
Elmhurst, 718-803-6373, Daniel Dromm
Far Rockaway, 718-471-7014, Donovan Richards
Floral Park, 718-468-0137, Barry Grodenchik
Forest Hills, 718-544-8800, Karen Koslowitz
Forest Hills Gardens, 718-544-8800, Karen Koslowitz
Fresh Meadows, 718-468-0137, Barry Grodenchik
Glen Oaks, 718-468-0137, Barry Grodenchik
Glendale, 718-366-3900, Elizabeth Crowley
Hillcrest, 718-217-4969, Rory Lancman
Hollis, 718-776-3700, I. Daneek Miller
Holliswood, 718-468-0137, Barry Grodenchik
Howard Beach, 718-738-1083, Eric Ulrich
Hunters Point, 718-383-9566, Jimmy Van Bramer
Jackson Heights, 718-803-6373, Daniel Dromm
Jamaica Center, 718-217-4969, Rory Lancman
Jamaica Estates, 718-217-4969, Rory Lancman
Jamaica Hills, 718-217-4969, Rory Lancman
Kew Gardens, 718-544-8800, Karen Koslowitz
Kew Gardens Hills, 718-217-4969, Rory Lancman
Laurelton, 718-471-7014, Donovan Richards
Lefrak City, 718-651-1917, Julissa Ferreras
Lindenwood, 718-738-1083, Eric Ulrich
Little Neck, 718-619-8611, Paul Vallone
Long Island City, 718-383-9566, Jimmy Van Bramer
Malba, 718-619-8611, Paul Vallone
Maspeth, 718-366-3900, Elizabeth Crowley
Middle Village, 718-366-3900, Elizabeth Crowley
Murray Hill, 718-888-8747, Peter Koo
Neponsit, 718-738-1083, Eric Ulrich
North Corona, 718-651-1917, Julissa Ferreras
Oakland Gardens, 718-468-0137, Barry Grodenchik
Ozone Park, 718-738-1083, Eric Ulrich
Pomonok, 718-217-4969, Rory Lancman
Queens Village, 718-468-0137, Barry Grodenchik
Queensboro Hill, 718-888-8747, Peter Koo
Ravenswood, 718-274-4500, Costa Constantinides
Rego Park, 718-544-8800, Karen Koslowitz
Richmond Hill, 718-544-8800, Karen Koslowitz
Ridgewood, 718-366-3900, Elizabeth Crowley
Rochdale, 718-206-2068, Ruben Wills
Rockaway Park, 718-738-1083, Eric Ulrich
Rosedale, 718-471-7014, Donovan Richards
Roxbury, 718-738-1083, Eric Ulrich
Seaside, 718-738-1083, Eric Ulrich
Somerville, 718-471-7014, Donovan Richards
South Corona, 718-651-1917, Julissa Ferreras
South Jamaica, 718-776-3700, I. Daneek Miller
South Ozone Park, 718-206-2068, Ruben Wills
Springfield Gardens, 718-471-7014, Donovan Richards
St. Albans, 718-776-3700, I. Daneek Miller
Steinway, 718-274-4500, Costa Constantinides
Sunnyside, 718-383-9566, Jimmy Van Bramer
Sunnyside Gardens, 718-383-9566, Jimmy Van Bramer
Utopia, 718-217-4969, Rory Lancman
Whitestone, 718-619-8611, Paul Vallone
Woodhaven, 718-738-1083, Eric Ulrich
Woodside, 718-383-9566, Jimmy Van Bramer
Staten Island
Annadale, 718-984-5151, Joseph Borelli
Arden Heights, 718-984-5151, Joseph Borelli
Arlington, 718-556-7370, Deborah Rose
Arrochar, 718-980-1017, Steven Matteo
Bay Terrace, 718-984-5151, Joseph Borelli
Bloomfield, 718-980-1017, Steven Matteo
Bulls Head, 718-980-1017, Steven Matteo
Butler Manor, 718-984-5151, Joseph Borelli
Castleton Corners, 718-556-7370, Deborah Rose
Charleston, 718-984-5151, Joseph Borelli
Chelsea, 718-980-1017, Steven Matteo
Clifton, 718-556-7370, Deborah Rose
Concord, 718-980-1017, Steven Matteo
Dongan Hills, 718-980-1017, Steven Matteo
Egbertville, 718-980-1017, Steven Matteo
Elm Park, 718-556-7370, Deborah Rose
Eltingville, 718-984-5151, Joseph Borelli
Emerson Hill, 718-980-1017, Steven Matteo
Graniteville, 718-556-7370, Deborah Rose
Grant City, 718-980-1017, Steven Matteo
Grasmere, 718-980-1017, Steven Matteo
Great Kills, 718-984-5151, Joseph Borelli
Greenridge, 718-984-5151, Joseph Borelli
Grymes Hill, 718-556-7370, Deborah Rose
Heartland Village, 718-984-5151, Joseph Borelli
Howland Hook, 718-556-7370, Deborah Rose
Huguenot, 718-984-5151, Joseph Borelli
Lighthouse Hill, 718-980-1017, Steven Matteo
Manor Heights, 718-980-1017, Steven Matteo
Mariner's Harbor, 718-556-7370, Deborah Rose
Midland Beach, 718-980-1017, Steven Matteo
New Brighton, 718-556-7370, Deborah Rose
New Dorp, 718-980-1017, Steven Matteo
New Dorp Beach, 718-980-1017, Steven Matteo
New Springville, 718-980-1017, Steven Matteo
Oakwood, 718-980-1017, Steven Matteo
Old Town, 718-980-1017, Steven Matteo
Park Hill, 718-556-7370, Deborah Rose
Pleasant Plains, 718-984-5151, Joseph Borelli
Port Ivory, 718-556-7370, Deborah Rose
Port Richmond, 718-556-7370, Deborah Rose
Prince's Bay, 718-984-5151, Joseph Borelli
Randall Manor, 718-556-7370, Deborah Rose
Richmond Town, 718-980-1017, Steven Matteo
Richmond Valley, 718-984-5151, Joseph Borelli
Rosebank, 718-556-7370, Deborah Rose
Rossville, 718-984-5151, Joseph Borelli
Sandy Ground, 718-984-5151, Joseph Borelli
Shore Acres, 718-556-7370, Deborah Rose
Silver Lake, 718-556-7370, Deborah Rose
South Beach, 718-980-1017, Steven Matteo
St. George, 718-556-7370, Deborah Rose
Stapleton, 718-556-7370, Deborah Rose
Sunnyside, 718-556-7370, Deborah Rose
Todt Hill, 718-980-1017, Steven Matteo
Tompkinsville, 718-556-7370, Deborah Rose
Tottenville, 718-984-5151, Joseph Borelli
Travis, 718-980-1017, Steven Matteo
West Brighton, 718-556-7370, Deborah Rose
Westerleigh, 718-980-1017, Steven Matteo
Willowbrook, 718-556-7370, Deborah Rose
Woodrow, 718-984-5151, Joseph Borelli