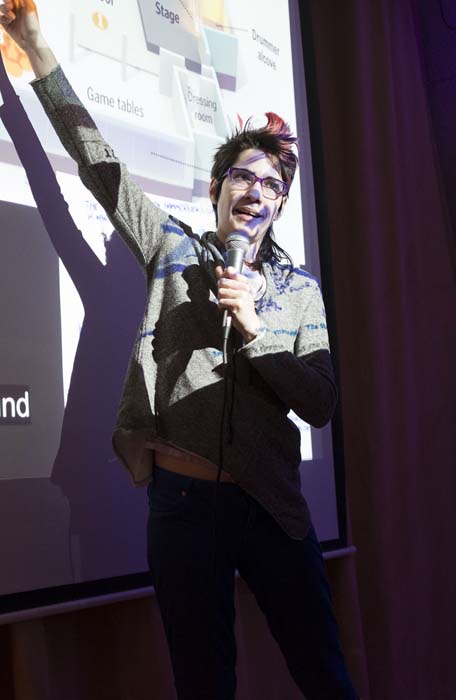 Free Venue Fire Safety Course
The Deep End
1080 Wyckoff Ave, New York, New York 11385
Sunday February 24, 3pm-7pm
RSVP / More Info
---
By Tara Mc Manus
Fire Producer, founder of the Floasis
Contact for Safety Questions
Become a Certified Fire Guard
Study Guide (download)
Application Form (download)
E.S.C.A.P.E.
E- Exits – All exits are unblocked, unlocked, and properly marked
S- Storage – The occupancy is clean, orderly and there is no excessive storage. No storage of combustible material and combustible waste in corridors. The hazardous materials are stored, handled or used only in the designated areas and are away from any ignition sources.
C- Capacity – The number of persons occupying the building or space does not exceed the posted capacity. Capacity certificates are properly posted.
A- Aisles – All aisles are free and clear at all times.
P- Protection – Smoke, fire alarm, sprinkler systems, and fire extinguishers are in proper working order and have up-to-date inspection and testing performed.
E- Emergency exit lighting – All exits signs and emergency exit lighting are working properly.
Extinguisher Placement and Use
Near any ignition source
Top and bottom of every staircase
At every exit and entrance
Flame Treating
Fabrics (especially synthetic), paper, wood, and other combustible materials should be flameproofed. Especially when attached to the ceiling or near a potential ignition source.
Rosco Fabric Treatments:
SF - For Synthetic fiber (clings to surface)
NF - For Natural fibers (penetrates fibers)
PF - Generic fabric (medium cling/penetration)
PA - Paint additive
Test Your Materials!
With a lighter creating a 2" flame, hold the sample halfway into the flame for 12 seconds. Ensure that:
(A) the flame does not spread over the entire sample; and
(B) the specimen does not continue to burn for more than two (2) seconds after the flame has been withdrawn; and
(C) the flaming material does not break or drip from the specimen and continue to burn on the non-combustible surface.
Resources
HARM REDUCTION FOR DIY VENUES: DO IT YOURSELF // DO IT NOW (A packet in progress)
The Floasis Safety Course, for people who play with fire http://thefloasis.com/floasis-safety-course
Fabric Science for pyros and more https://www.facebook.com/groups/409521429131015/files/