Let's pack MARKET HOTEL in strong support for underground, DIY, #CommunityDriven spaces.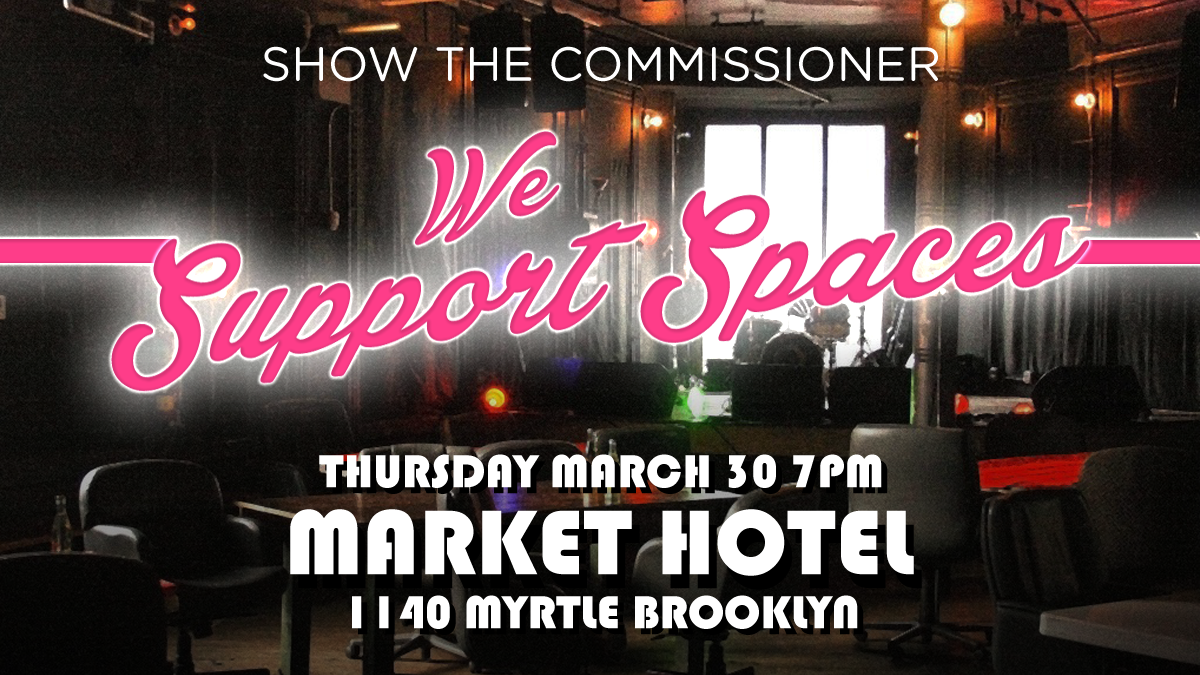 Market Hotel - Show NYC We Support Spaces
Let's pack Market Hotel in strong support for underground, DIY, #CommunityDriven spaces.
when: Thursday March 30, 7pm
where: Market Hotel, 1140 Myrtle Ave, Brooklyn
The Commissioner of the New York City Department of Cultural Affairs will attend. You being there, your voice will change the next 10 years of culture in NYC. #CreateNYC
Tell NYC we support #CommunityDriven Spaces. DECRIMINALIZE, SUPPORT, AFFORD.
The criminalization and shutdown of spaces pushes our community "underground" and into unsafe environments.
◯ Support Repeal of Cabaret Law ◯ End the BAN ON +3 PEOPLE DANCING W/O LICENSE
#LETNYCDANCE #CommunityDriven
◯ Transparency of MARCH program ◯ M.A.R.C.H: Multi-Agency Response to Community Hotspots unites the Police, Fire Dept, Dept of Buildings, Liquor Authority on a single strike to economically force spaces out of business. Community Hotspots should be nurtured, not targeted. How does MARCH choose targets?
#ImproveDontEvict #CommunityDriven
ACCESS TO SUPPORT
Independent creative communities are a thriving informal economy excluded from vital government and philanthropic support.
◯ Confidential Cultural Caseworkers: Permitting & Liability ◯ Build trust. Hire artists as confidential caseworkers to help New Yorkers navigate bureaucratic hurdles to thrive safely.
#AnonCasework #CommunityDriven
◯ Establish an Urgent Repairs Fund ◯ Create a fund that resolves urgent safety and code compliance issues for #CommunityDriven Spaces. In the past year, Denver and Oakland have committed to such funds. The application process should not be so resource intensive as to exclude those who need it the most.
#NYCSafetyFund #CommunityDriven
PROMOTE AFFORDABILITY
Having artists and art spaces in the same building is economically essential.
◯ Expand the Loft Law ◯ ◯ Preserve Affordable Spaces with Incentives for Landlords ◯ ◯ Community Space Incubator in Underused City Space ◯ ◯ Public Programming Facilities in Live-Work Spaces ◯
Sign the #LetNYCDance Petition
---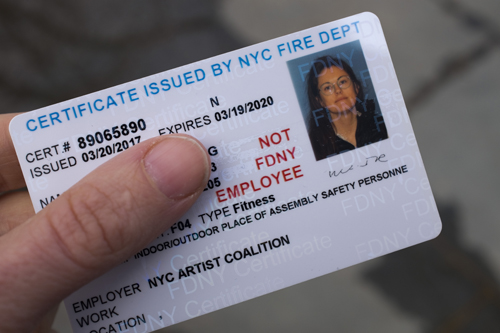 You Can Be A Fire Guard: March 24
All of Monday's group became Fire Guards! You can become a City certified Fire Guard and know how to save lives in case of emergency.
when: Friday March 24, 11am
where: NYC Fire Department (FDNY), Public Certification Unit, 9 MetroTech Center, 1st Floor, Brooklyn
Before Test Day
Test Day
Bring with you:
Certificate of Fitness Form
Recommendation Letter
Two forms of identification, at least one must be a government-issued photo identification, such as a driver's license or a passport
$25 application fee
Last minute group study
Test Location NYC Fire Department (FDNY)
Public Certification Unit
9 MetroTech Center, 1st Floor
Brooklyn, NY 11201
Email contact@nycartc.com to come along or if you have questions!
---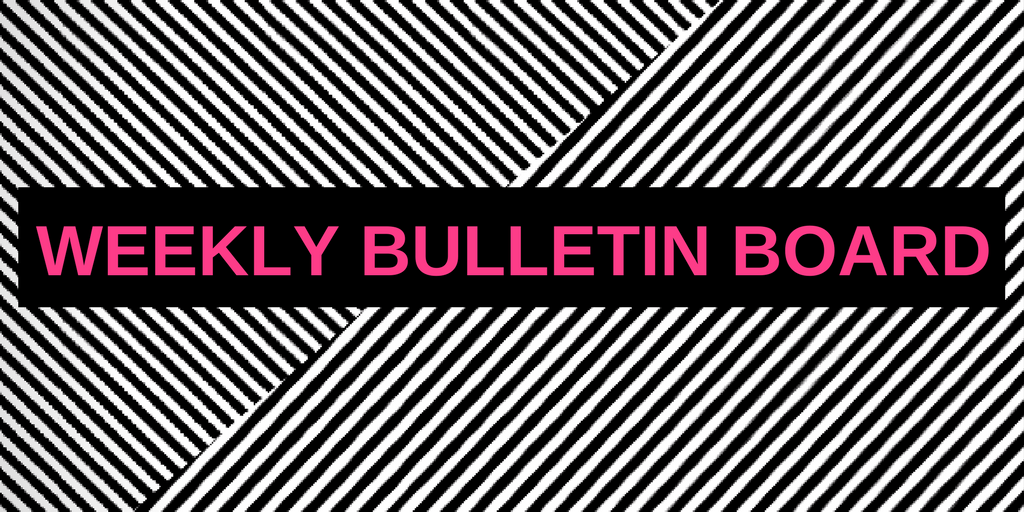 Weekly Bulletin Board
Submit a job opening, housing search, call for submission, job search, etc. to contact@nycartc.com
---

Heavy duty pattern cutting work table - $150 (Bushwick Brooklyn)
This cutting table is so sturdy, I can stand on it!
The size, 48"x78" is ideal for patternmaking for fashion or other large format work.
The height is adjustable from 32"-38", see the photo of the leg to see how that works.
There is an optional shelf that is about 1/3 the size of the table top (see photograph of the table broken down).
---

Culture Push Fellowship for Utopian Practice
Culture Push, is an NYC-based arts non-profit, whose Fellowship for Utopian Practice program supports artists developing civically engaged projects.
They recently announced their open call for the Spring 2017 Fellowship with a deadline of April 19th.
Culture Push launched the Fellowship for Utopian Practice in 2012 to support boundary-pushing, interdisciplinary and socially engaged artwork.
Our current Fellows are studying the spatial dimension of civil resistance; empowering black women and girls to articulate their own experiences; devising performative interventions that examine Puerto Rican identity on the island and in New York; leading dance-based foraging walks in Red Hook that allow participants to understand the cultural and ecological role of wild urban plants; catalyzing workshops and informal performances where individuals with non-traditional art backgrounds can meet and create together; and organizing a national participatory story exchange around the topic of incarceration as a way that communities can reimagine justice.
---

CreateNYC Cultural Participation Survey
Give your input on the CreateNYC Cultural Plan!
Your input is extremely important and will inform the recommendations that will shape the future of arts and culture in New York City. All information collected will be kept anonymous.
Take CreateNYC Cultural Plan Survey
---

AED Defibrillator Grant
Apply for funding for life saving Automated External Defibrillators (AEDs).
This program is designed to help institutions and individuals everywhere place these life saving devices at an affordable price. You may even apply as an Individual for a Home AED.
---
Events and Important Deadlines
//// WEDNESDAY MARCH 22
10:00 AM
CreateNYC All Day Symposium & Town Hall - Have Voice in NYC's Cultural Plan
Martin E. Segal Theatre Center, New York, NY
https://wowlist.org/events/26727
//// FRIDAY MARCH 24
11:00 AM
Become a Fire Guard: Group Test & Study
NYC Fire Department (FDNY), Public Certification Unit, 9 MetroTech Center, 1st Floor, Brooklyn, NY 11201
https://www.facebook.com/events/330648000670969/
3:00 PM
CreateNYC Office Hours: Displacement, Affordability & Arts Communities
NYC Department of Cultural Affairs, 31 Chambers St #201, New York, NY 10007
https://wowlist.org/events/26886
6:30PM
Strength in Numbers: Equity & Cross-Racial Solidarity in NYC
CUE Art Foundation, 137 W 25th St, New York, NY
https://wowlist.org/events/27390/
//// SATURDAY MARCH 25
8:00 PM
Dark Before Dawn
(Secret Location by the Myrtle/Wyckoff station), Brooklyn NY https://wowlist.org/events/27147
//// THURSDAY MARCH 30
4:00 PM
ACT UP: 30th Anniversary March and Rally
AIDS Memorial | 200-218 West 12th Street, New York City
https://wowlist.org/events/27224
7:00 PM
Market Hotel - Show NYC We Support Spaces
Market Hotel, 1140 Myrtle Ave, Brooklyn
https://wowlist.org/events/27020
//// FRIDAY MARCH 31
Meow Wolf DIY Fund to Support Art & Music Spaces - Applications Due March 31 [extended deadline]
https://wowlist.org/events/26627
3:30 PM
Rescheduled CreateNYC Office Hours: Disability And The Arts Dexter Hall: The New-York Historical Society, 170 Central Park West New York, NY 10024
https://wowlist.org/events/27062
//// THURSDAY APRIL 6
7:00 PM
Cooperative Urban Living :: April Mixer!
Starr Bar, 214 Starr Street, Brooklyn, NY
https://wowlist.org/events/27382
//// WEDNESDAY APRIL 19
Deadline! Culture Push Fellowship for Utopian Practice
https://wowlist.org/events/27254
//// TUESDAY APRIL 25
7:00PM
Dancing is NOT a Crime - NYC Artist Coalition April General Meeting
https://wowlist.org/events/27218/
//// THURSDAY JUNE 15
Loft Law Deadline June 15, 2017 - Apply for Coverage
The Loft Law protects tenants in NYC who are illegally living in commercial or factory buildings. Goals: bring those buildings up to residential safety and fire codes, give rights and rent protection to the tenants who live there.
https://wowlist.org/events/26723