Apply to be NYC's First Nightlife Mayor
Apply to be the City's First Night Mayor and have a say help Save NYC Spaces. Include a resume and cover letter.
Want help with your application? Email: contact@nycartc.com
When applying, tell the Mayor's Office of Media and Entertainment:
How you will facilitate outreach to all five Boroughs to reach every neighborhood's nightlife culture through public meetings.
The Office of Nightlife needs to offer a pathway to legality for spaces that is easy to understand. Artist are not born knowing how to navigate bureaucracy.
How the Office of Nightlife should create a Confidential Cultural Casework to build trust and a pathway to safety.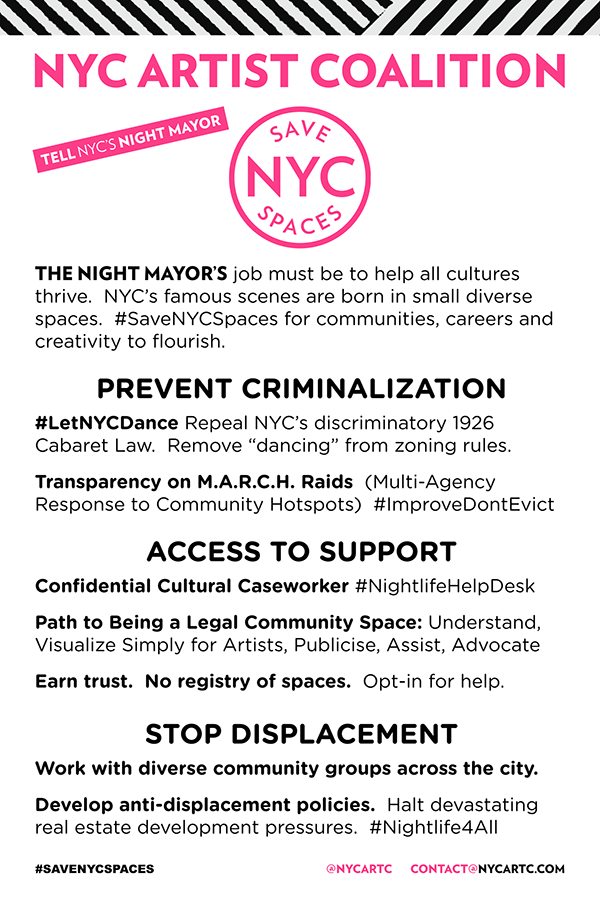 Job Description
Job Category: Constituent Services & Community Programs
Business Title: Senior Executive Director of Nightlife - MOME
Proposed Salary Range: $ 60,435.00 - $130,000.00 (Annual)
Career Level: Manager
Job ID: 302642
The Mayor's Office of Media and Entertainment (MOME) encompasses the key economic and creative sectors of film, TV, theater, music, advertising, publishing, digital content and real estate as it relates to these industries. In total, these sectors account for over 305,000 jobs, and an economic output of $104 billion. The office promotes New York City as a thriving center of creativity, issuing permits for productions filming on public property, and facilitating production throughout the five boroughs. It also oversees NYC Media, the largest municipal broadcasting entity in the country including five TV Stations and a radio station with a reach of 18 million households and a 50-mile radius.
In June 2017, Mayor de Blasio announced that the Mayor's Office of Media and Entertainment would expand to include the first ever Office of Nightlife. Serving under the Commissioner of MOME, the Senior Executive Director of the Office of Nightlife will help establish this Office, implement recommendations made by a Nightlife Taskforce that will be convened to address challenges and opportunities in NYC's nightlife industry, and manage day to day operations. The Office's aim will be to promote an economically and culturally vibrant nightlife industry, while serving the best of interests of the City and its residents.
The Office of Nightlife will be managed by the Senior Executive Director who will promote an economically and culturally vibrant nightlife industry, while accounting for the best of interests of the City and its residents.
More specifically, responsibilities will include:
*Serve as an intermediary between City agencies, law enforcement, elected officials, the nightlife industry, and NYC residents;
*Develop and implement policies to support the health of the night time economy;
*Provide assistance with permitting, licensing, and approvals for nightlife businesses;
*Monitor trends, issues, and violations issued to nightlife establishments and develop methods to address issues in consultation with industry representatives, City agencies, community boards, residents, and other relevant stakeholders;
*Implement recommendations made in the Nightlife Taskforce report;
*Set the agenda for and managing day to day operations of the Office of Nightlife;
*Develop and implement policies designed to support a vibrant nightlife in New York City while ensuring health and safety of patrons, residents and communities are protected;
*Implement recommendations made in the Nightlife Taskforce report;
*Develop strong ties to the nightlife community, business associations, community boards, community and residential groups, city agencies and other key stakeholders;
*Work collaboratively with City agencies to address issues relating to nightlife;
*Represent the office on and before various industry events, commissions, and the City Council, including testifying, as needed (note this role may require work on nights and weekends);
*Manage staff, including but not limited to, permit specialists and field representatives.
Minimum Requirements

A baccalaureate degree from an accredited college or university and five years of full-time paid experience acquired within the last fifteen years, of supervisory or administrative experience including handling of business promotion or urban economic problems, at least 2 years of which must have been in a managerial or executive capacity with primary focus on business promotion or urban economic planning; or

A satisfactory equivalent combination of education and experience. However all candidates must have 2 years of managerial or executive experience as described in "1" above.
Appropriate graduate study in an accredited college or university may be substituted for the general experience on a year-for-year basis. All candidates must have a four-year high school diploma or its equivalent approved by a State's Department of Education or a recognized accrediting organization.
Preferred Skills
The preferred candidate should possess the following:
5+ years of experience working closely with the nightlife or music industry;
5+ years of experience with NYC government regulations governing the nighttime economy or health/public safety;
Understand of New York City politics and government structure;
Experience managing competing interests and resolving conflicts;
5+ years of experience managing staff;
Ability to work in a fast-paced, high-pressure, public facing role;
Experience with public speaking;
A highly collaborative and diplomatic nature;
Ability to work with diverse stakeholders with varying perspectives.
To Apply
For City employees, please go to Employee Self Service (ESS), click on Recruiting Activities > Careers, and search for Job ID #302642
For all other applicants, please go to http://www.nyc.gov/jobs/search and search for Job ID #302642
-or-
If you do not have access to a computer, please mail resume indicating Job ID # to:
Department of Information Technology and Telecommunications (DoITT)
Recruitment Office - 2 Metrotech Center - 4th Floor - Brooklyn, NY 11201
Hours/Shift
Day - Due to the necessary management duties of this position in a 24/7 operation, candidate may be required to be on call and work various shifts such as weekends and/or nights/evenings.
Work Location
Manhattan, NY
Residency Requirement
New York City residency is generally required within 90 days of appointment. However, City Employees in certain titles who have worked for the City for 2 continuous years may also be eligible to reside in Nassau, Suffolk, Putnam, Westchester, Rockland, or Orange County. To determine if the residency requirement applies to you, please discuss with the agency representative at the time of interview.
POSTING DATE:
08/29/2017